Discover budget-friendly vegetarian recipes that are loved by vegetarians and omnivores alike! No mystery ingredients here, just simple food made easy and delicious, without the meat. Choose from over 400 vegetarian recipes for breakfast, lunch, dinners, snacks, and more. Many of these vegetarian recipes found here are vegan friendly or can easily be converted to be 100% plant-based. (pictured: Peanut Tofu Noodle Bowls) Looking for vegetarian meals that meal prep well? Check out our Vegetarian Meal Prep category!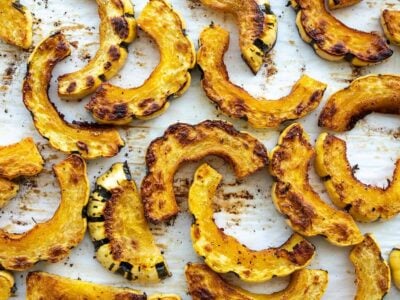 Roasted Delicata Squash
Roasted Delicata squash is surprisingly sweet and rich, and is almost effortless to prepare, making the perfect fall or winter side dish.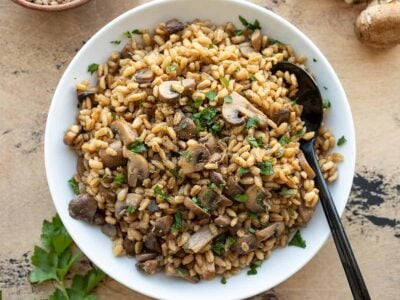 Baked Barley with Mushrooms
$3.05 recipe / $0.76 serving
Baked Barley with Mushrooms is a hearty side dish perfect for chilly fall and winter nights and pairs perfectly with roasted meat or stew.
Spiced Lentils with Carrots
$3.91 recipe / $0.98 serving
These warm, sweet, and savory spiced lentils hold up well as leftovers and make the perfect cozy vegetarian meal prep.
Snickerdoodles for Two
$0.84 recipe / $0.42 serving
This Snickerdoodles for two recipe makes two large cafe-style cookies, perfect for when you want just a little bit of dessert and no more.
Extra Cheesy Homemade Mac and Cheese
$4.19 recipe / $1.05 serving
This incredibly creamy and cheesy homemade mac and cheese is great on its own or a jumping off point for your own customization.
One Pot Veggie Rice Bowl
$1.29 each
This simple veggie rice bowl can be made with just one pot and a hot plate, or a rice cooker. It's a simple meal when resources are limited! BudgetBytes.com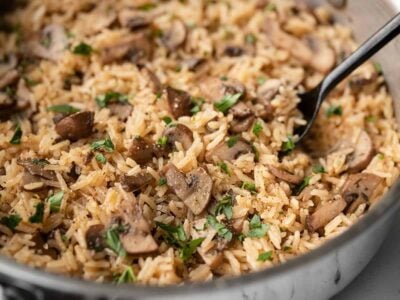 Mushroom Rice
$2.93 recipe / $0.73 serving
This simple mushroom rice combines earthy mushrooms, savory garlic, rich butter, and flavorful vegetable broth for a simple yet flavorful side dish.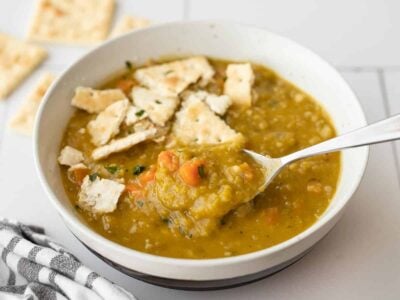 Vegan Split Pea Soup
$3.16 recipe / $0.63 serving
This vegan split pea soup is fast, easy, and comforting. It's the perfect cozy meal for chilly fall and winter days.
Wild Rice Pilaf
$2.73 recipe / $0.68 serving
This wild rice pilaf is full of color, texture, and fall flavors. It's the perfect side dish for dinner during the cooler months.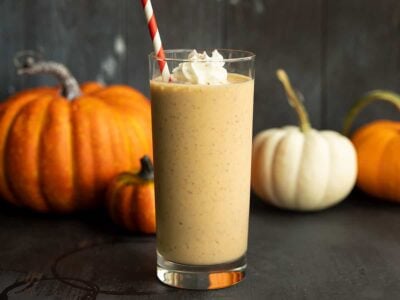 Pumpkin Smoothie
$0.94 each
This pumpkin smoothie was one of my first experiments with pumpkin purée TEN years ago. I had a little bit of pumpkin leftover from another recipe and thought, "Hey, can I put this in…
Ranch Drop Biscuits
$2.54 recipe / $0.21 each
Add ranch seasoning to your biscuit dough for an extra punch of flavor! These Ranch Drop Biscuits are the perfect side for a bowl of soup.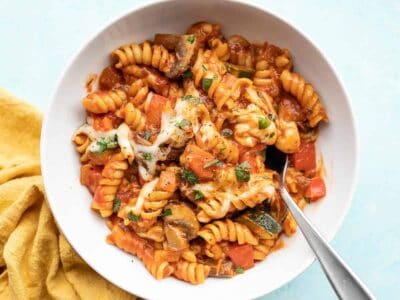 One Pot Veggie Pasta
$7.99 recipe / $2.00
This one pot veggie pasta is an easy, satisfying, and quick dinner. Use whatever vegetables you have on hand and make it your own!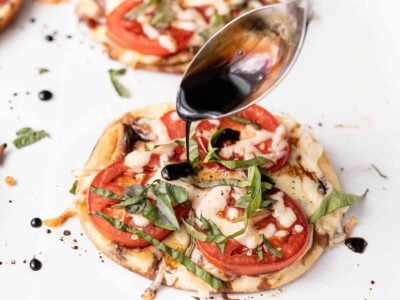 Easy Caprese Pizza
$5.47 recipe / $1.37 each
Creamy mozzarella, fresh tomatoes and basil, and a light drizzle of tangy balsamic glaze make this easy Caprese pizza phenomenal!
Homemade Balsamic Glaze
$2.32 recipe / $0.58 serving
A simple homemade balsamic glaze or balsamic reduction is super easy to make and tastes great drizzled over vegetables, meat, and more!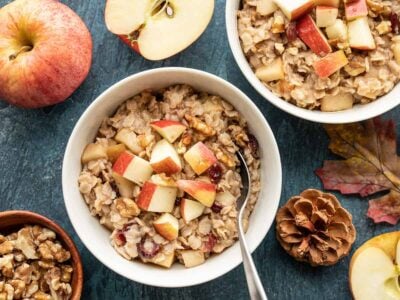 Autumn Fruit and Nut Oatmeal
$0.54 per bowl
Oatmeal has been one of my favorite budget ingredients since day one. It's super inexpensive, shelf-stable, and can be used in both sweet and savory dishes. Not to mention, a warm bowl of oatmeal…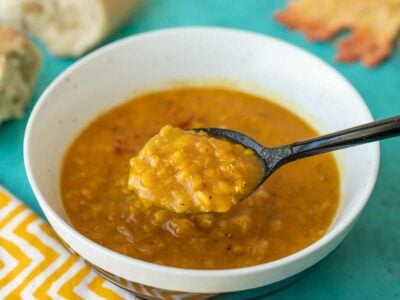 Curried Red Lentil and Pumpkin Soup
$5.89 recipe / $0.98 serving
Hooray for easy soups! This Curried Red Lentil and Pumpkin Soup is the type of recipe that saves the day—very few ingredients, fast, and really delicious. Oh yeah, and did I mention how incredibly…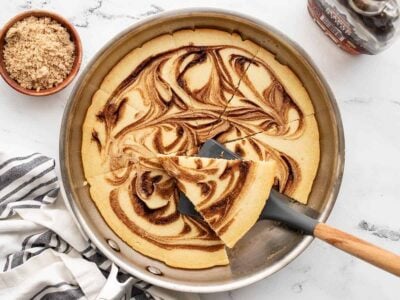 Cinnamon Swirl Oven Pancake
$1.72 recipe / $0.43 serving
Cook all of your pancakes at once as one large oven pancake to make sure everyone gets a hot and fresh slice at the same time.
Apple Cinnamon Bread Pudding
$4.22 recipe / $0.70 serving
Bread pudding, also known as French Toast Casserole, is what all your cozy weekend breakfast dreams are made of. It's basically bread soaked in a sweet and creamy custard, then baked to perfection. The…
Savory Oatmeal
$1.25 recipe
It's funny how oats have been pigeonholed for use in mostly sweet dishes in the U.S. We tend to eat oats sweetened at breakfast, or as part of delicious crumbly desserts, but oats do…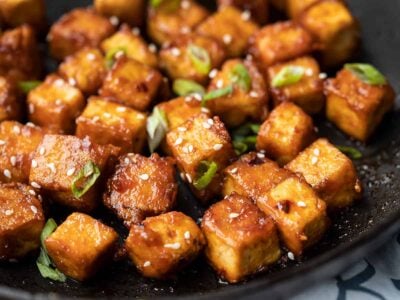 Honey Sriracha Tofu
$2.64 recipe / $0.66 serving
This sweet, spicy, and sticky honey sriracha tofu is addictively delicious! Add it to salads, bowl meals, noodles, wraps, and more.