130+ budget-friendly chicken recipes to keep you full and happy. Learn how to pair inexpensive cuts of meat with a variety of ingredients to stretch your dollar, while keeping your meals filling and flavorful. Choose from recipes for baked chicken, chicken breasts, chicken salad, chicken thighs, chicken wings, quick chicken recipes, and more! (pictured: Easy Lemon Pepper Chicken)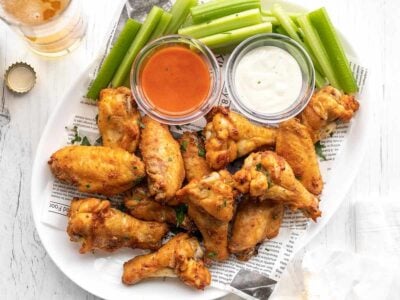 Baked Chicken Wings
$10.35 recipe / $3.45 serving
These delicious and crispy baked chicken wings are easy enough for even inexperienced cooks, and are the perfect snack for game day.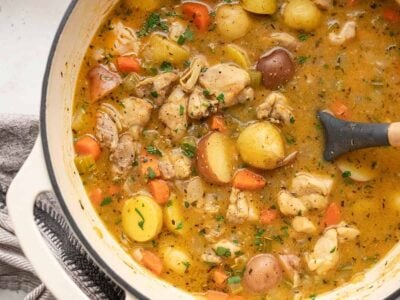 Chicken Stew
$12.22 recipe / $2.04 serving
This chicken stew is a rich and hearty mix of tender chicken thighs, vegetables, and a light but flavorful herb-infused gravy.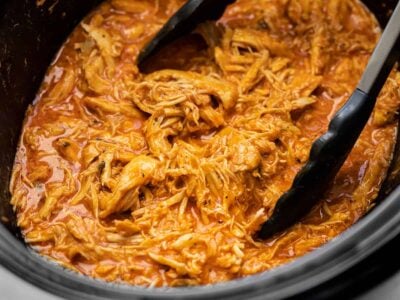 Slow Cooker Buffalo Chicken
$12.65 recipe / $1.58 serving
Slow Cooker Buffalo Chicken is tender, juicy, tangy, and rich all at the same time! Perfect for sandwiches, nachos, salads, pizza, and more.
Baked Chicken Drumsticks
$3.94 recipe / $0.66 serving
Oven baked chicken drumsticks are the perfect easy dinner idea that can be flavored with any of your favorite seasonings.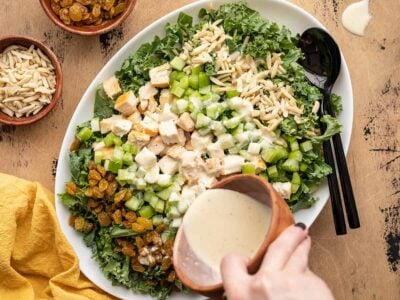 Crunchy Kale and Chicken Salad
$6.19 recipe / $1.55 serving
If you think a salad can't fill you up, think again. This awesomely crunchy and flavorful Kale and Chicken Salad is chock full of juicy chicken breast, almonds, celery, and lots of fiberlicious kale…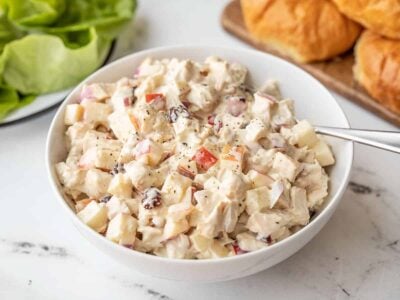 Chicken Salad with Apples
$10.35 recipe / $2.59 serving
I'm kind of obsessed with chicken salad lately. It's easy to prepare, super filling, and the perfect cold meal during these hot summer months. I especially love this chicken salad with apples because it's…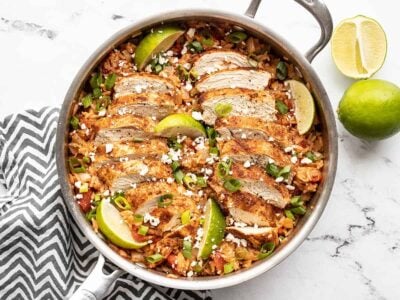 Chipotle Lime Chicken and Rice
$9.16 recipe / $2.29 serving
This easy one-pot chipotle lime chicken and rice is tangy, smoky, spicy, and incredibly delicious. Makes a great main dish or meal prep!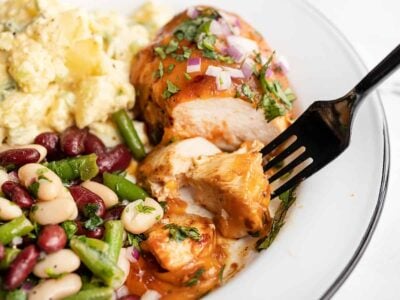 BBQ Cheddar Baked Chicken
$8.89 recipe / $2.22 serving
Forget boring or bland baked chicken breasts, this BBQ Cheddar Baked Chicken is going to be the star of your dinner plate.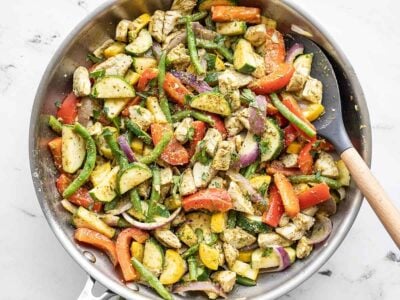 Easy Pesto Chicken and Vegetables
$11.07 recipe / $2.77 serving
This Easy Pesto Chicken and Vegetables meal prep is super fast and easy, and holds up well in the fridge for tasty lunches all week!
Coconut Chicken Strips with Sweet Chili Sauce
$10.93 recipe / $2.73 serving
Talk about addictive! Once you try one of these crispy Coconut Chicken strips dipped in tangy sweet chili sauce you're going to want to make them on a weekly basis. Because the chicken is sliced…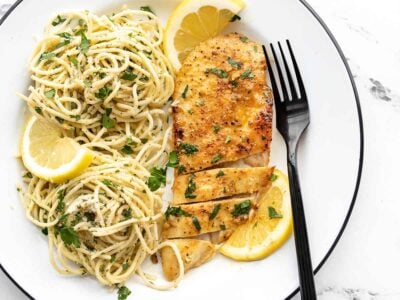 Easy Lemon Pepper Chicken
$7.58 recipe / $1.90 serving
These Easy Lemon Pepper Chicken Breasts are so tender, juicy, and flavorful, you'll want to spoon that delicious pan sauce over EVERYTHING.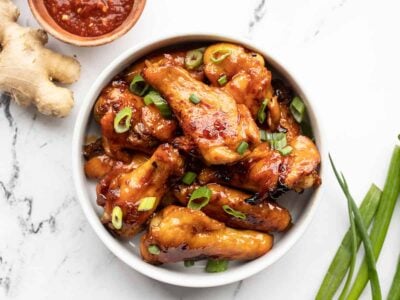 Sticky Ginger Chicken Wings
$8.56 recipe / $4.28 serving
Wow. Just, WOW. These Sticky Ginger Chicken Wings are just the right amount of salty, sweet, and spicy with a fresh little zing thanks to the ginger. The sticky gooey sauce is so good…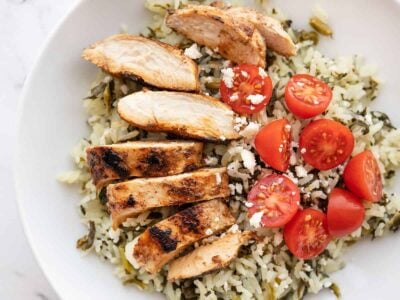 Yogurt Marinated Chicken
$7.29 recipe / $1.82 serving
This tangy and garlicky Yogurt Marinated Chicken is full of warm spices and can be served several different ways. It's my new go-to chicken marinade!
Honey Mustard Chicken Wings
$8.04 recipe / $4.02 serving
I used to hate chicken wings. But, OMG, I think I'm officially a convert. These crispy, oven-baked honey mustard wings are so seriously delicious that I've craved them every day since I first made…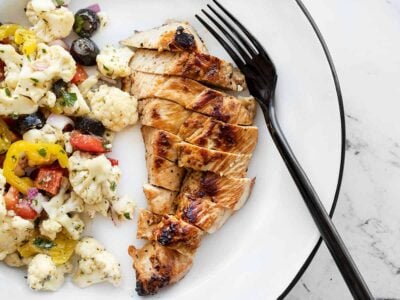 Garlic Marinated Chicken
$3.37 recipe / $0.84
This simple all-purpose Garlic Marinated Chicken is great to add to sandwiches, salads, pasta dishes, and more!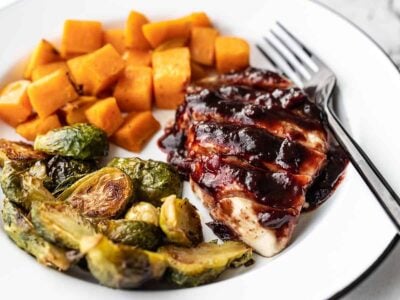 Sheet Pan Cranberry Chicken Dinner
$13.26 recipe / $3.32 serving
One of my favorite simple dinner "formulas" is two roasted vegetables and a meat. It's just so simple and when I can cook them all on one sheet pan, it's even better. For this…
Creamy Mushroom Chicken with Crispy Onions
$8.70 recipe / $2.18 serving
Creamy mushroom sauces make me weak in the knees. Anyone else? The chicken here is purely a vehicle for the creamy, garlicky, heavenly mushroom sauce. And the crispy onions? Well that's just icing on…
One Pot Lemon Artichoke Chicken and Rice
$7.39 recipe / $1.85 serving
As this unusual summer draws to a close, it's time to start moving into new routines for fall. Having a routine dinnertime can be so helpful when the world feels like it has turned…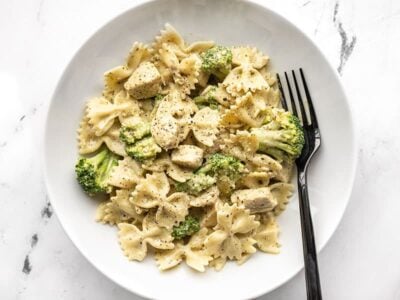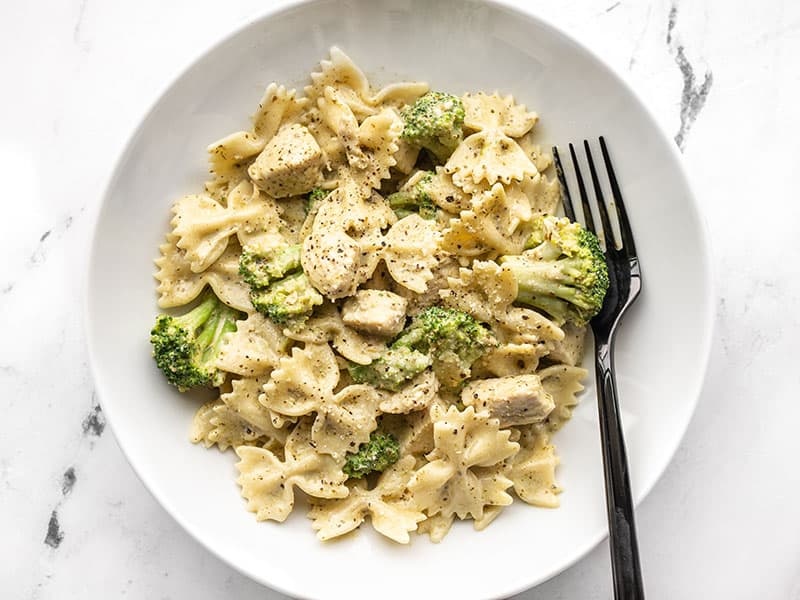 Creamy Pesto Pasta with Chicken and Broccoli
$5.48 recipe / $1.37 serving
I'm all about the quick skillet meals because, let's face it, sometimes after a long day of work you don't really want to cook anything… but you still gotta eat. This super quick Creamy…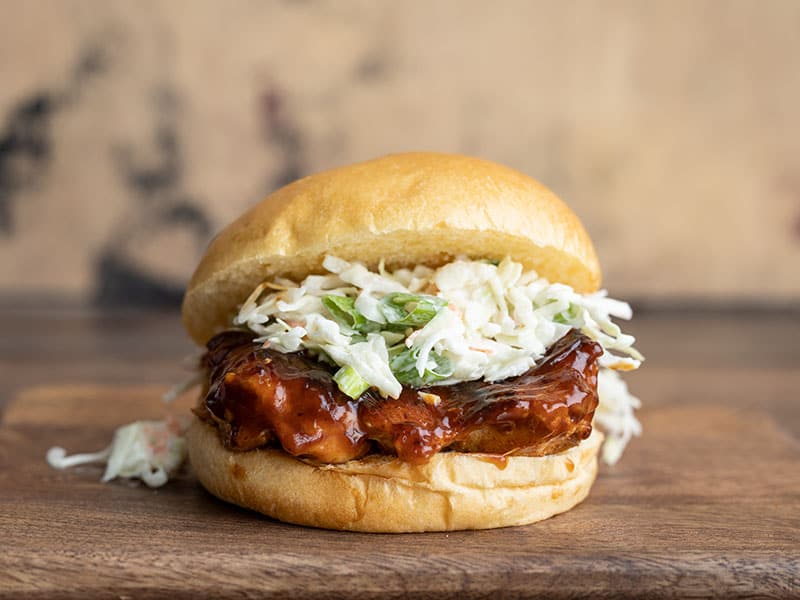 Easy BBQ Chicken Sandwiches
$7.04 recipe / $1.76 serving
Craving BBQ, but don't have a pit? These Easy BBQ Chicken Sandwiches only take about 30 minutes to make and cost only a couple of bucks a piece, making them a really fast, inexpensive,…